Biographies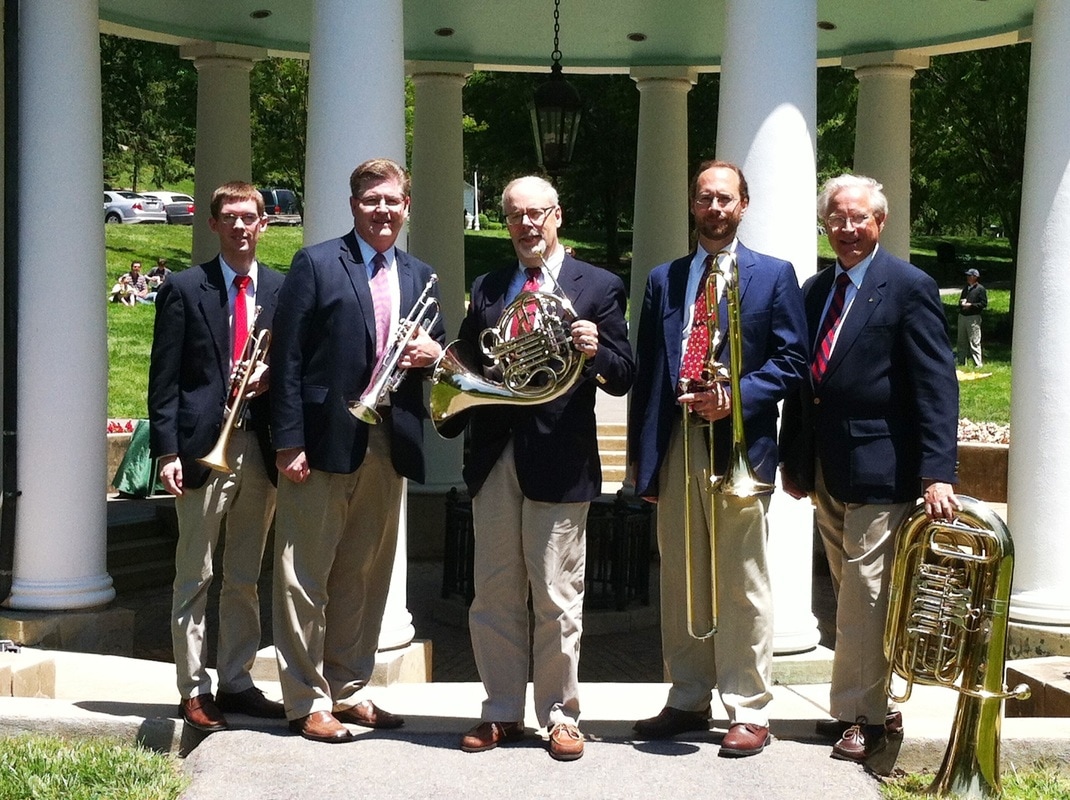 Biographies

The quality of the biographies below are a testament to quality of this ensemble.

David Dayton, trumpet, was educated in the Marshall County, WV school system. He earned his Bachelors Degree in Applied Trumpet in 1978 and a Masters degree in Music Education in 1980 from West Virginia University. He is in his 35th year as an educator and professional musician and is currently Director of Instrumental Music in Washington School District, Washington, PA. He previously taught at West Liberty University, and Marshall County Schools in West Virginia and Union Local School District in Ohio. As a trumpet soloist and freelance musician he has performed at many churches, weddings, schools, and with several combos and big bands. He is also a former 18 year member of the Wheeling Symphony Orchestra. He has performed with such notable artists as: The Temptations, The Four Aces, Jim Nabors, Englebert Humperdinck, Johnny Mathis, Lorrie Morgan, Bobby Vinton, Pat Boone, Donna Theodore, Aretha Franklin, Kenny Rogers, Joe Piscapo, and Wayne Newton.

Adam Loudin, trumpet, is the Director of Choral Music and Beginning Band at Robert L. Bland Middle School in Weston, WV. He attained his undergraduate degree in music education and trumpet performance from West Virginia Wesleyan College where he studied with James Moore and Harry Rich. He went on to earn his Master of Music in Jazz Studies at Indiana University- Bloomington where he was the teaching assistant to world-renowned jazz educator, David Baker. A former winner of the Mountain State Brass Competition and a semifinalist in the National Trumpet Competition, Adam's performing experience includes the Danville Symphony Orchestra in Illinois, the Pittsburgh Jazz Orchestra under the direction of Sean Jones, the David Baker Band, and the Artie Shaw Band.

Andrew Scott, horn, served as the instrumental music director at Buckhannon-Upshur Middle School from 1976 to 2013. He remains active in the state as an adjudicator, guest conductor, and clinician. In 2013, Phi Beta Mu National Band Honorary elected him as West Virginia's Outstanding Bandmaster. He has previously served on the music faculties at Glenville State College, Davis and Elkins College, and Pierpont Community College. He is presently an adjunct instructor at West Virginia Wesleyan College. He is a graduate of Indiana University School of Music and West Virginia Wesleyan College. A former student of Philip Farkas and Forrest Standley, Andrew has also been coached by Zach Smith of the Pittsburgh Symphony Orchestra. Andrew's orchestral background includes performances with the Bloomington Symphony (Indiana), the Pennsylvania Philharmonic, the Western Maryland Symphony, the Wheeling Symphony, and the West Virginia Symphony Orchestras.

Brian Plitnik, trombone, earned music degrees from Frostburg State University and West Virginia University. Plitnik is currently a Trombone Instructor and Director of Trombone Ensembles at WVU, where he completed a Doctorate of Musical Arts degree in trombone performance. Plitnik also serves as Professor of Music at Potomac State College in Keyser, WV where in addition to teaching duties, he also conducts the pit orchestra for Musical Theatre productions. He has performed with ensembles such as the Stage Left Theatre Orchestra, the Apple Alley Players, WV Public Theatre Orchestra, the Potomac Highlands Dance Band, the Mon River Big Band, the Johnstown Symphony Orchestra, the Maryland Symphony Orchestra Brass Quintet, and the Wheeling Symphony Orchestra. In 2008, Plitnik was selected to perform a solo recital at the prestigious "Music at Penn Alps" Series. He has recorded with Emmanuel Brass, and for Harmony Grove Studios, and has appeared with Bill Tole (the Jimmy Dorsey Orchestra), Bobby Vinton, and Rick K. & the All-Nighters.

John Schooley, tuba, is a founding member of the Fairmont Brass Quintet, The Appalachian Brass Quintet, and the West Virginia Brass Quintet. He is currently a professor of music at Fairmont State University where he teaches low brass, brass methods class, and music theory. He holds degrees from Mansfield University, East Carolina University and the Royal Academy of Music in London. A former student of John Fletcher and William J. Bell, Mr. Schooley has played tuba with the Corning Symphony in New York, the Eastern Kentucky University Brass Quintet, the Fairmont University Community Orchestra, and the West Virginia Public Theatre. He has published numerous compositions, books on music theory and articles in national music magazines. He is the owner of Heilman Music in Fairmont and was recently inducted into the West Virginia Music Educators Hall of Fame.